The White River Employees' Newsletter
Caring for the land and serving people - May 2001
Forest shows employees appreciation
In case you've ever wondered which of your fellow co-workers has been on the Forest longest, and is truly appreciated it's none other than Bill Johnson on the Holy Cross District. He started working on the Forest in 1966. We learned this and much more at the Employee Appreciation Day hosted by our Special Emphasis Program Group on April 20 in New Castle.
Sue Wehrspann served as our facilitator. An interesting icebreaker kicked the day off. Everyone was asked to list three things about themselves one false and the other two true to see if they could stump their co-workers. Surprisingly, the male LT members seemed to be overwhelmingly successful at this. Hmmm?
The next exercise had us broken down into 12 groups and had us identify two or three things that we believe have had a great impact on the Forest. Consistently, the overwhelmingly repeated items were: the Forest Plan, technology, and changes in personnel including our Forest Supervisor.
Sue's opening topic was "How do you react to change?" She gave examples of being at the wheel or being proactive; being along for the ride or being neutral; and being under the wheel or being a victim. She then challenged us to examine our survival strategy when faced with change. She suggested that how you deal with change is influenced by the way you chose to survive your childhood.
After a lunch break which provided an opportunity for a walk in the windy city, a team volley ball competition, or an opportunity to serve a volley ball to see if you could hit a pizza box and win a FREE pizza, we retreated back to our afternoon session.
We answered a series of questions and tallied our results to see if we were chocolate, fudge marble, vanilla, vanilla/strawberry swirl, strawberry, or Neapolitan. Simply stated, those who the instrument indicated are predominately chocolate favor tradition, rules, and policies. The vanilla respondents prefer participative management with high interpersonal commitments. And, the strawberries are individualists who depend on their sense of what is right. While this may seem like a Dairy Queen© story to you, many of the participants believed there was validity to the outcome.
We then had an exercise, along with our newly identified flavor pals in which we were asked to see who could build the tallest, free-standing tower using Friday's Rocky Mountain News and 15 feet of masking tape. We quickly found out how well we worked together. One strawberry group finished first with a mound of paper that was, at best, 2 feet high. Two groups admitted cheating. The Dr. Seuss team had an elaborately concocted tower that maybe stood 5 feet. Overwhelmingly, those who devised a tripod platform with a tapered column rising anywhere from 12 to 15 feet proved most successful but what really is success?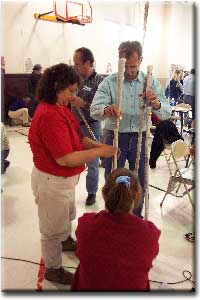 We had breakout groups which discussed mentoring, balancing your life, stress management, and mass transportation.

We then watched the video FISH. It takes place at Pikes Place Fish Market in Seattle and well, you really have to see it to understand it. Rumors have it that some of the RDs are now learning fish tossing skills.

We finally had to stop for the day and what a day it was! Many thanks go to the SEPG members: Elaine Langstaff, Anita Moulton, Dave Silvieus, Jan Spencer, Barbara Suits, and Andelé Worthington.
ARE YOU CHOCOLATE, VANILLA, STRAWBERRY?
CHOCOLATE
Provide work rules and job descriptions with duties spelled out in priority order. Provide an organization chart showing reporting relationships; respect the chain of command. Respect traditions and established ways; appeal to historical precedent. Avoid changes when possible, if impossible, introduce changes slowly. Accentuate reason over emotion when handling problems. Mind your manners and language; be courteous. Establish a career plan with benchmarks for progress, rewards expected and time frames. Provide tangible rewards for good performance, preferably money. Recognize good work with signs of status, such as diplomas, uniforms, medals, and titles. Reinforce company loyalty through service pins, award banquets, and personal appreciation. Communicate the mission, goals, and objective of the organization and provide an action plan. Keep work areas organized, clean and safe. Finally, is clear and logical when giving orders?
VANILLA
Include vanillas in the decision-making process; use participative management, provide opportunity for off the-job social interaction--company picnics, recreation programs, annual meetings. Emphasize employee teamwork on the job through task forces, committee project quality circles, and other group involvement activities. Have regular, well-run staff meetings; provide ample opportunity for sharing ideas. Ask for opinions, listen to what is said, and then demonstrate responsiveness. Get to know the person-family makeup, off-the job interests, and personal goals. Appeal to both logic and feelings when dealing with problems emphasize joint approach and talk with, not at, the person. Use communication vehicles such as bulletin boards, newsletters, telephone hotlines, and the open-door policy to exchange information. Allow people skills to shine in public relations, teaching, and mediation projects. Provide growth opportunities through in service raining and staff development programs. Finally, keep human relations smooth; consider personal feelings.
STRAWBERRY
Recognize independence and personal freedom; don't supervise too closely. Provide immediate reward for good performances; don't delay gratification. Talk in terms of present; de-emphasize past and future. Keep things stimulating; keep things fun. Focus on meaningful personal experiences, satisfying interpersonal relationships, and important social causes. Provide individual job assignments, and assign work by project when possible. Accentuate feelings over logic when handling problems. Reward good performance with personal time off and personal fulfillment activities. Keep things casual; minimize formality. Avoid rigid controls: allow for questions and creativity. Finally, treat the strawberry as a separate individual, not as a member of a group or organization.